Love.angel. music.baby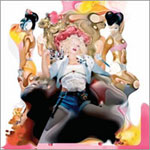 Okay, I admit it: I was among the many critics sharpening their knives as I sat down to review Gwen Stefani's debut solo album. I should have known better. As the pin-up frontwoman for No Doubt, Stefani's always been an entertaining presence on the pop charts, and she clearly had a strong hand in rescuing the band from post-ska irrelevance and reinventing them as the disco-trash mavens of "Hella Good." Sure enough, Love, Angel, Music, Baby completes her transformation from her post-punk diva into full-blown pop princess, offering up some of the most gloriously sly, tacky Top 40 fodder since Madonna was in her "Material Girl" heyday.
Just when you think Love, Angel can't possibly get any catchier, it does, and in ways that are completely unexpected. Stefani transforms "If I Were a Rich Man" from Fiddler on the Roof into a harem-girl shimmy on "Rich Girl" (with help from none other than Eve and Dr. Dre) and cops Queen's stadium-rock stomp to deliver a pop tart declaration of independence on "Hollaback Girl" (with production work by The Neptunes, no less). She even enlists Johnny Vulture, the alterego of OutKast's Andre 3000, to join her on an ode to backseat sex, "Bubble Pop Electric," that makes the "Electric Slide" sound positively filthy by comparison. This is music for people who like their bubblegum pop extra sticky, and it will probably divide No Doubt fans, not to mention the rest of us, pretty evenly between ardent fans and absolute haters. Count me among the fans.
It would easy to attribute Love, Angel's success to Stefani's ace list of collaborators: In addition to Dr. Dre, Andre and the Neptunes, the credits boast such big names as Nellee Hooper, No Doubt bassist Tony Kanal, Bernard Sumner and Peter Hook of New Order, Wendy and Lisa of Prince & the Revolution fame, even Jimmy Jam and Terry Lewis (remember them?). But this is a surprisingly coherent album for one that employs such a small army of producers and guest musicians, sticking close to a core sound that traipses happily between Prince-inspired, kitchen-sink R&B and early '80s synth pop. Clearly, Stefani's vision -- not to mention her sassy, sex-kitten persona -- is what keeps this Love together. Here's hoping it's a vision that silences the doubters and finds the audience it deserves.

| | | |
| --- | --- | --- |
| track# | song name | track time |
| 1 | What You Waiting For? | (3:41) |
| 2 | Rich Girl | (3:56) |
| 3 | Hollaback Girl | (3:19) |
| 4 | Cool | (3:09) |
| 5 | Bubble Pop Electric | (3:42) |
| 6 | Luxurious | (4:24) |
| 7 | Harajuku Girls | (4:51) |
| 8 | Crash | (4:06) |
| 9 | Real Thing | (4:11) |
| 10 | Serious | (4:48) |
| 11 | Danger Zone | (3:37) |
| 12 | Long Way to Go | (4:34) |