How to dismantle an atomic bomb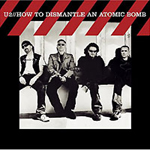 You could argue that it's a weakness rather than a strength, but the fact remains that U2 is the only band in the world that's stayed together for over 25 years with no lineup changes, no discernible loss in popularity, and no significant evolution in their core sound (the Pop debacle aside). To ask them to do all that and equal or exceed the glory days of The Joshua Tree and Achtung Baby is probably asking too much. Still, it's hard to listen to their latest effort without a mixture of nostalgia and disappointment.
How to Dismantle an Atomic Bomb picks up right where their 2000 return-to-form album All That You Can't Leave Behind left off, showcasing a back-to-basics set of songs peppered with The Edge's chiming guitar hooks, the strident, arena-friendly backbeats of Adam Clayton and Larry Mullin, and the band's most enduring trademark, Bono's soaring delivery of his own hymn-like lyrics and melodies. Like its predecessor, Bomb is slick, engaging, and almost completely forgettable. U2 have now officially entered the ranks of those great bands like The Rolling Stones and Aerosmith who continue to produce albums that would be fantastic if they weren't such obvious rehashes of past glories. After listening to it once, you don't want to hear it again -- you want to go dig out your old U2 records and listen to the old classics like "Where the Streets Have No Name" and "One" that were so obviously the templates for most of these songs.
If it weren't for that insanely irritating iPod commercial, opening track "Vertigo" would be the album's best song, a surprisingly loose, light-hearted romp in what is otherwise the band's most bombastic effort since Rattle and Hum. As it is, most listeners, long since sick of hearing Bono's bad Spanish, will skip right to track two, "Miracle Drug," a suitably high-minded ode to AIDS research boasting such startlingly vapid lyrics as "Science and the human heart/There is no limit/There is no failure here, sweetheart/Just when you quit." I wish I could say things get better from there, but for the most part, they don't.
There are enough small pleasures on Bomb to please hardcore U2 fans -- classic Edge guitar riffs on "Yahweh" and "Crumbs From Your Table," the chugging blues-rock of "Love and Peace or Else," and the majestic "City of Blinding Lights," which for now is the album's best track (until it turns up in an ad for something suitably hip and high-tech -- a hybrid car, perhaps). They're probably enough to please most critics, too, who ever since the twin oddities of Pop and Zooropa (the band's most underrated album, in my opinion) have been only too eager to praise anything the band does that isn't too weird. But as well-crafted as Bomb is, it's still the sound of four veteran musicians resting on their laurels, content to let such heir apparent bands as Doves and Coldplay push the epic rock sound that U2 practically invented in fresher and more challenging directions.
| | | |
| --- | --- | --- |
| track# | song name | track time |
| 1 | Vertigo | (3:14) |
| 2 | Miracle Drug | (3:59) |
| 3 | Sometimes You Can't Make It on Your Own | (5:08) |
| 4 | Love and Peace or Else | (4:50) |
| 5 | City of Blinding Lights | (5:47) |
| 6 | All Because of You | (3:39) |
| 7 | Man and a Woman | (4:30) |
| 8 | Crumbs from Your Table | (5:03) |
| 9 | One Step Closer | (3:51) |
| 10 | Original of the Species | (4:41) |
| 11 | Yahweh | (4:21) |